What is GSTR3B?
GSTR3B is a monthly return. Every registered person or a dealer needs to file it.
Even if you have nil transactions also you have to file it.
How to file GSTR-3B on GST Portal?
Step 1
As seen below, select the block "Return Dashboard" from "Services" --> "Returns"

Step 2
Select the previous month to file GST.
In my case, I have selected the previous month as April and click on "Search".

Select the box "Monthly Return GSTR3B" and click Prepare Online.

Once clicked, you will get an Alert Notification. Just Click "Ok"
Step 3
As seen in the below screenshot, click the required fields if you have done outward supply through ecommerce or on local. Once done, click "next"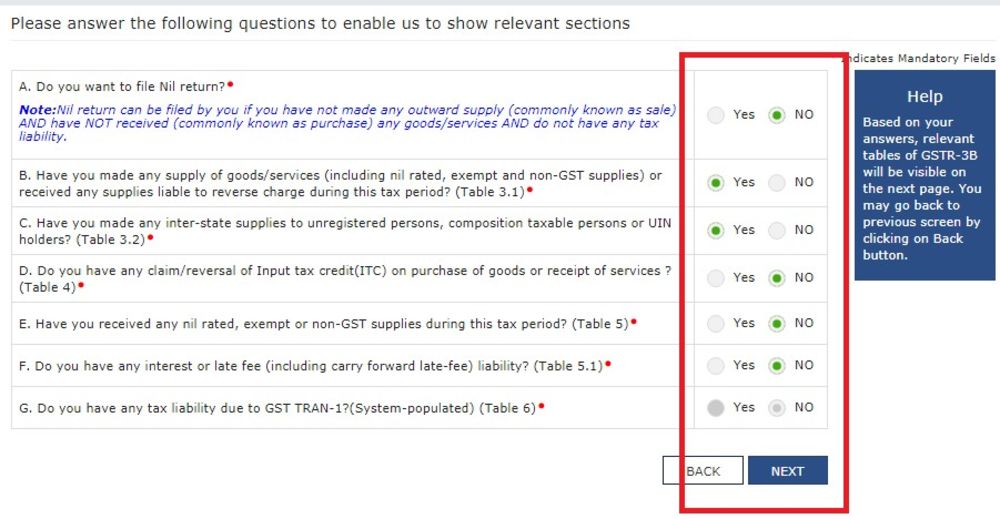 If you haven't done any supplies and if you want to do nil return filing, then click "yes" for the first option and "no" for the rest of the options.
Step 4
Once done, Boxes as seen below will be displayed in which you have to select "Tax on outward and reverse charge inward supplies"

I have attached my invoice for your reference. It's the complete details of the outward supplies done in a particular month. The first row is invoice for product and in next row in that table is shipping invoice since this product is supplied through ecommerce operator. By using this we are going to file so that you will understand easily. It will be good if you follow this excel structure for saving your invoices in this way.

Step 5
I have entered the details of the invoice (Total Taxable Value(Total base amount before tax), Integrated Tax, Central and State Tax)which I have shown you in above image. Once you fill yours, click on confirm and proceed next

Step 6
Now select the box "Inter State Supplies" and fill only the supplies which you made outward supply to other states.
In the below image I haven't made an entry for Tamilnadu because it will be an intra state supply. Therefore you need to enter only the inter state supplies
Once done, Save and Proceed to next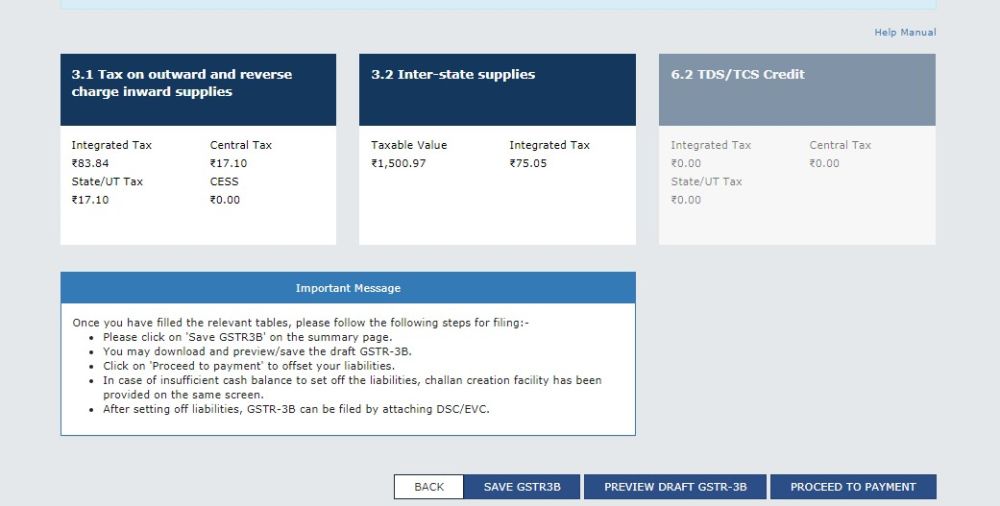 Step 7
To pay the taxes and offset the liability, Click the 'Payment of Tax' tile.
Under this section, You have to pay the GST you owe to the government, It includes the overall tax payable, tax paid through ITC (by offsetting the amount paid on inputs as tax).
Credits get updated in the credit ledger and the updated balance is available and can be seen by pointing the mouse pointer on the headings of credit in the payment section.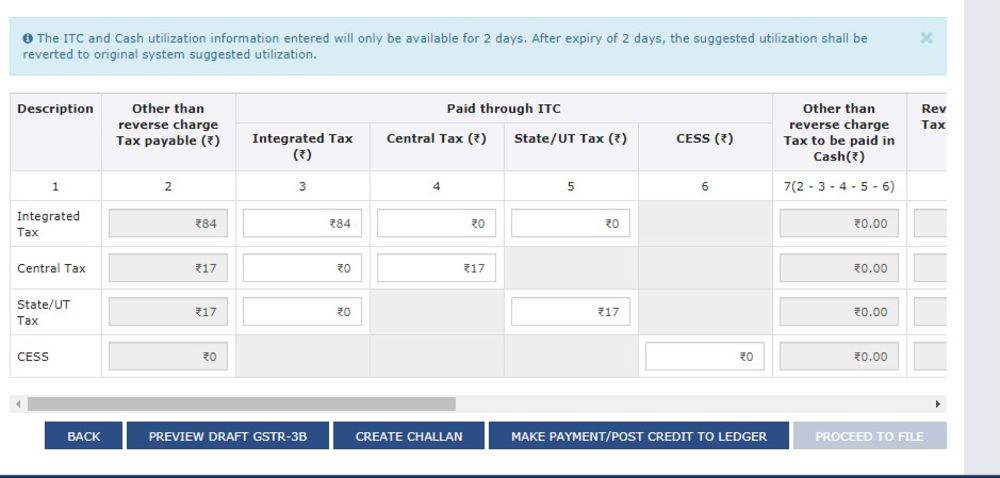 Click the MAKE PAYMENT/POST CREDIT TO LEDGER button to pay off the liabilities or to claim credit in case of no liabilities
In case if additional cash is required for paying liability, then it is reflected in the last column of the Table (Addition cash required).
In case of insufficient balance, A pop-up message is displayed "You do not have sufficient balance in Electronic Cash Ledger. Do you want to Create challan?" . Click the YES button
The Create Challan page is displayed and fields are auto-populated with total amount of payment to be made.
Select the Payment Modes as E-Payment or Over the Counter or NEFT/RTGS. I prefer to select E-payment since it can be done through NetBanking.
Click the GENERATE CHALLAN button and The Challan is generated.
What is an Electronic Cash Ledger and Electronic credit ledger?
E-Ledger is an electronic form of passbook for GST.
This is like an e-wallet. Any GST payment made in cash or through bank reflects in Electronic Cash Ledger.
Amount of GST deposited in cash to government is in Electronic Cash Ledger
After deduction of Input Tax Credit (ITC) any balance tax liability has to be paid using balance in Electronic Cash Ledger.
Balance of Input Tax Credit available (ITC) is in Electronic Credit Ledger
Step 8
Click the PROCEED TO FILE button
Select the checkbox for declaration
From the Authorized Signatory drop-down list, select the authorized signatory
Step 9
Click the FILE GSTR-3B WITH DSC or FILE GSTR-3B WITH EVC button
TO FILE GSTR-3B WITH DSC
Select the certificate and click on the sign button.
TO FILE GSTR-3B WITH EVC
Enter the OTP sent on email and mobile number of the Authorized Signatory registered at the GST Portal and click the VALIDATE OTP button.
The success message will be displayed. Click the OK button.
Status of the GSTR3B return changes to "Filed". You can click the VIEW GSRT3B button to view the GSRT3B return.